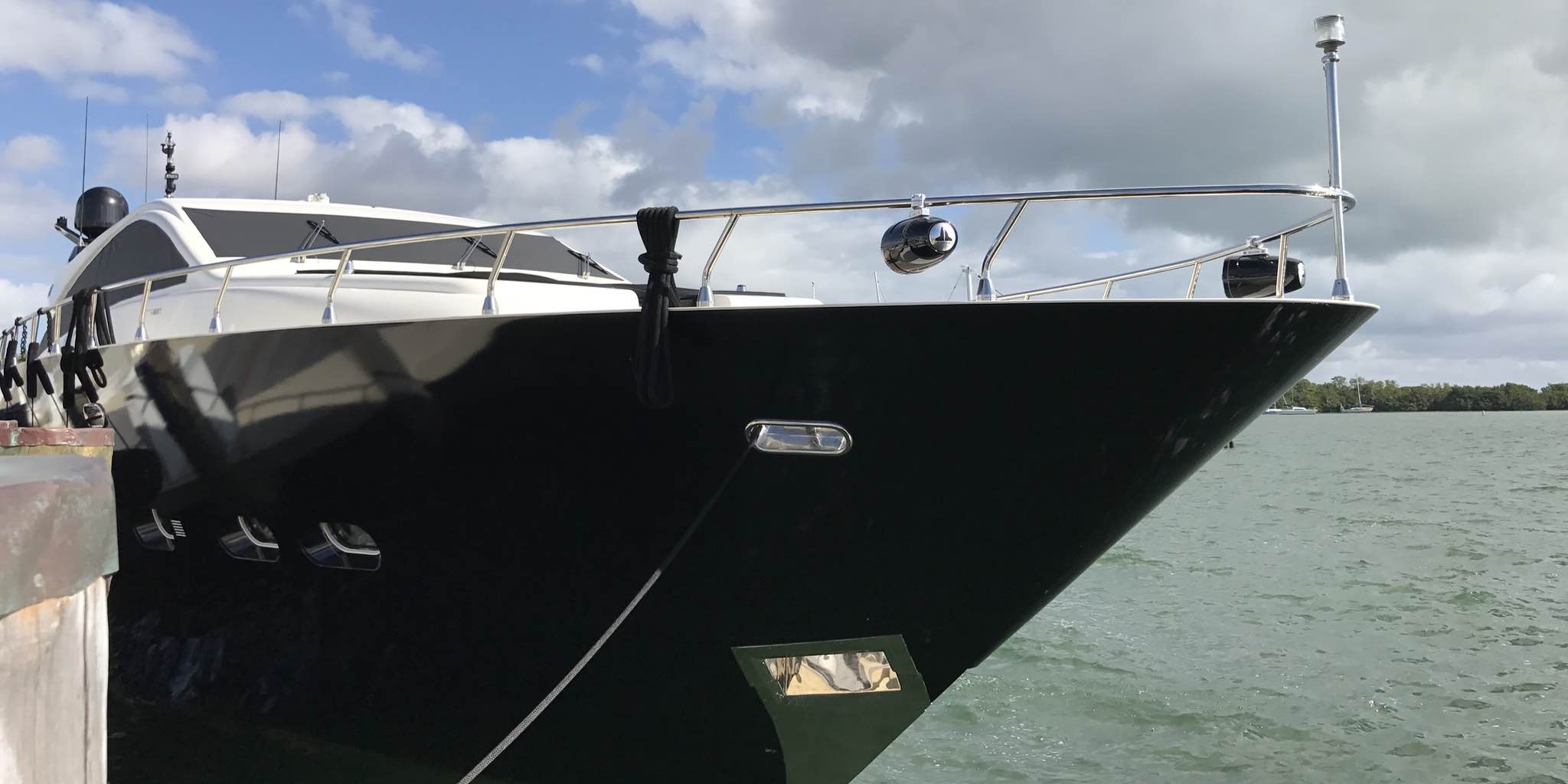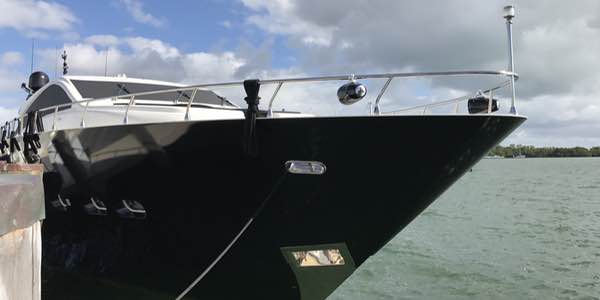 Luxury-Yachting AV Entertainment Overhaul
ARNO Leopard 31 - 101' Superyacht, Coconut Grove, Florida, 2016
Luxury-Yachting Audio Visual Overhaul
Luxury-Yachting AV Entertainment Overhaul Service, for a marine application. ARNO Leopard 31, 101' Super Yacht, located in Coconut Grove Florida.
It features a multi zone distributed audio system, with the latest in surround sound decoding from Marantz (AV Pre-Amplifier with Dolby Atmos, DTS:X and Auro-3D) in both the Salon, and Master cabin, using a Samsun 4K Quantum dots display, an Oppo Blu-ray Disc as an Audio & Video Source, a Karaoke Media Server with (two) AKG Reference Digital Wireless Microphones, Focal In-Ceiling Loudspeakers, a 100 watt Sonance Cabinet Subwoofer. In the Aft (four) Focal Custom-IC Fiberglass-Cone Speakers, (eight) Sonance Extreme dual-Coil Speakers for marine applications, (two) 100 watt Sonance Outdoor Subwoofers, all amplified by (four) Sonamp Hi-Res Audio DSP-Amplifiers.
We use the security leader in control systems AMX, with a custom GUI for the mobile devices, integrating the existing Gangway, Motorized Window Shades & Lighting to the AMX controller, and designed for ease of use with an intuitive layout. We deployed an Enterprise Grate Network, with high performance Network equipment, as PepLink, AMX Network Switchers, and Ruckus 3x3:3 WiFi AP. Advanced Video Surveillance for solid performance with AXIS Q35 Network Cameras.
This Super Yacht has a clear sound reproduction and an excellent base, at a high volume level.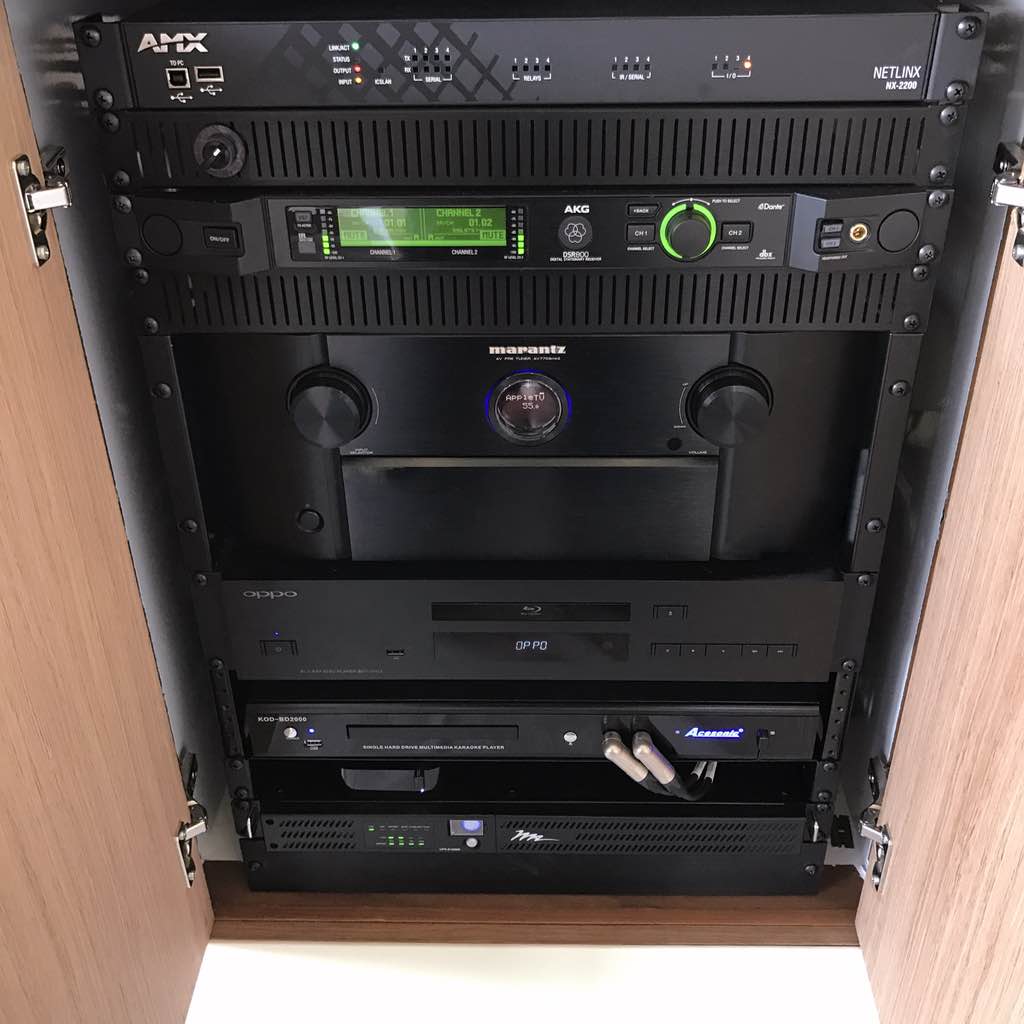 Holding premium AV entertainment equipment.
Middle Atlantic Cabinet Frame Rack
Holding (four) Sonamp DSP Amplifiers & KVH MCU.
JL Audio ETXv3 Swivel Mount
Custom installation to mount a JL Enclosed Coaxial Speaker System.
JL Audio Enclosed Speaker System
Custom installation with cables run through the yacht foredeck railing.
Focal IC & Sonance Extreme Speakers
Custom installation of (twelve) Marine Speakers & (two) Subwoofers.
AXIS F4005-E Surveillance Camera
Dome Sensor Unit, 110° in 1080p, IP66, 12m lens.
Luxury-Yachting Audio Visual Overhaul.
 The Luxury-Yachting super custom Audio Visual Overhaul integrator in South Florida. dmg-mg is a certified direct dealer and integrator of luxurious entertainment technology for luxury yachting and residential applications in the Miami / Fort Lauderdale area.
 Ensuring peace of mind, for the ultimate custom AV Entertainment Overhaul, with the best warranty protection of your Luxurious AV System Overhaul.