AMX Acendo Huddle Space Solutions
Acendo Book, Acendo Vibe, and Acendo Core enable enterprise office teams to increase efficiency, enhance collaboration and make optimal use of huddle spaces and small meeting rooms.
AMX Acendo Core is complete meeting room solution that features direct integration with Microsoft® Exchange scheduling, one-touch Skype for Business integration, native document viewers, email document sharing and more. AMX Acendo Vibe is a new line of premium conferencing sound-bars with a powerful feature set that includes JBL speakers, far-field microphones, a wide-angle camera and a modern office design aesthetic. AMX Acendo Book scheduling touch panels build on the success of AMX RoomBook touch panels, with a new firmware update that offers full scheduling integration with other Acendo products, plus enhanced usability, networking, and setup.
Teams in enterprise office environments and co-working space need to make optimal use of huddle spaces and smaller meeting rooms, and outdated conference room equipment can cause unnecessary delays and frustration, a huge detriment to meet set goals. AMX Acendo solutions enable teams to optimize their time, enhance collaboration and get to the heart of their meeting as quickly as possible. From audio conferencing to scheduling to document sharing, the Acendo family provides the industry's most intuitive, responsive and worry-free conference room solutions.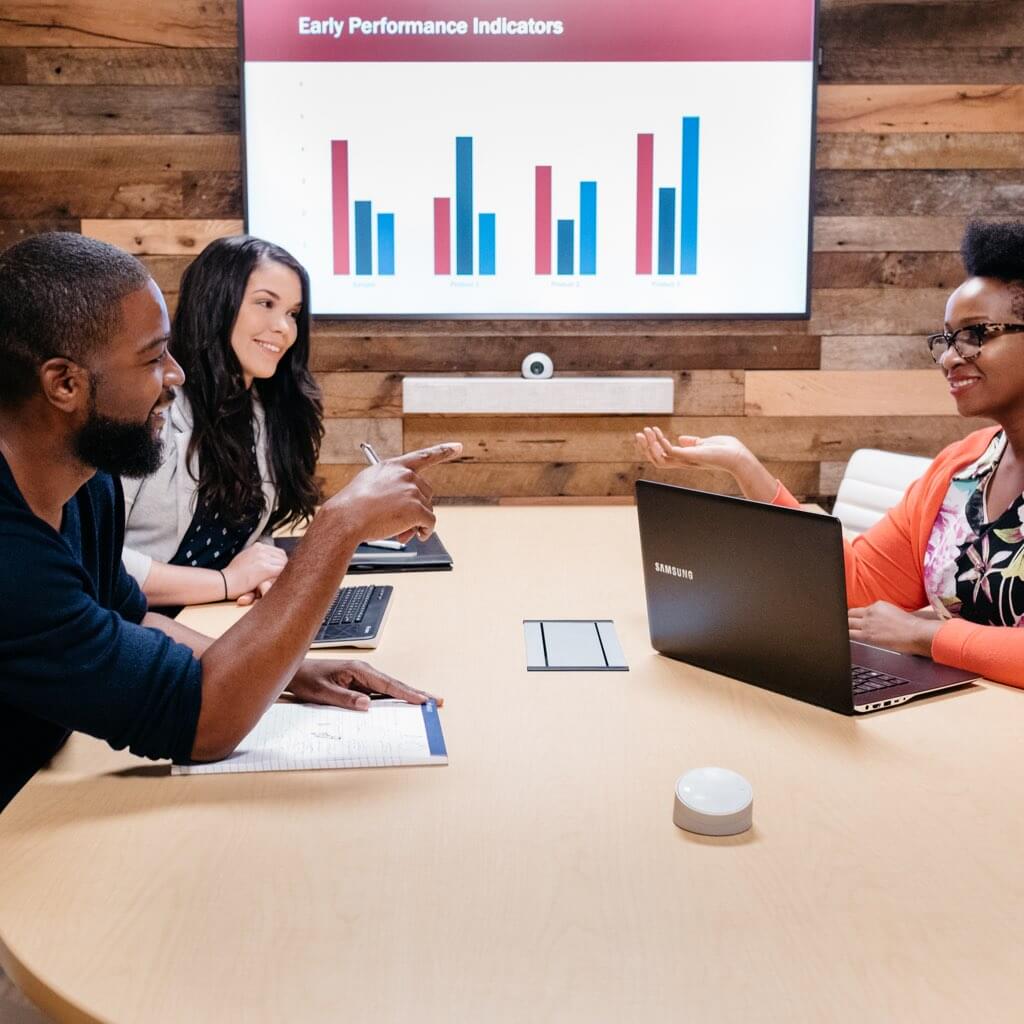 AMX Acendo Huddle Space Solutions
A cost-effective, and powerful enterprise-grade solution.
Speak to a private advisor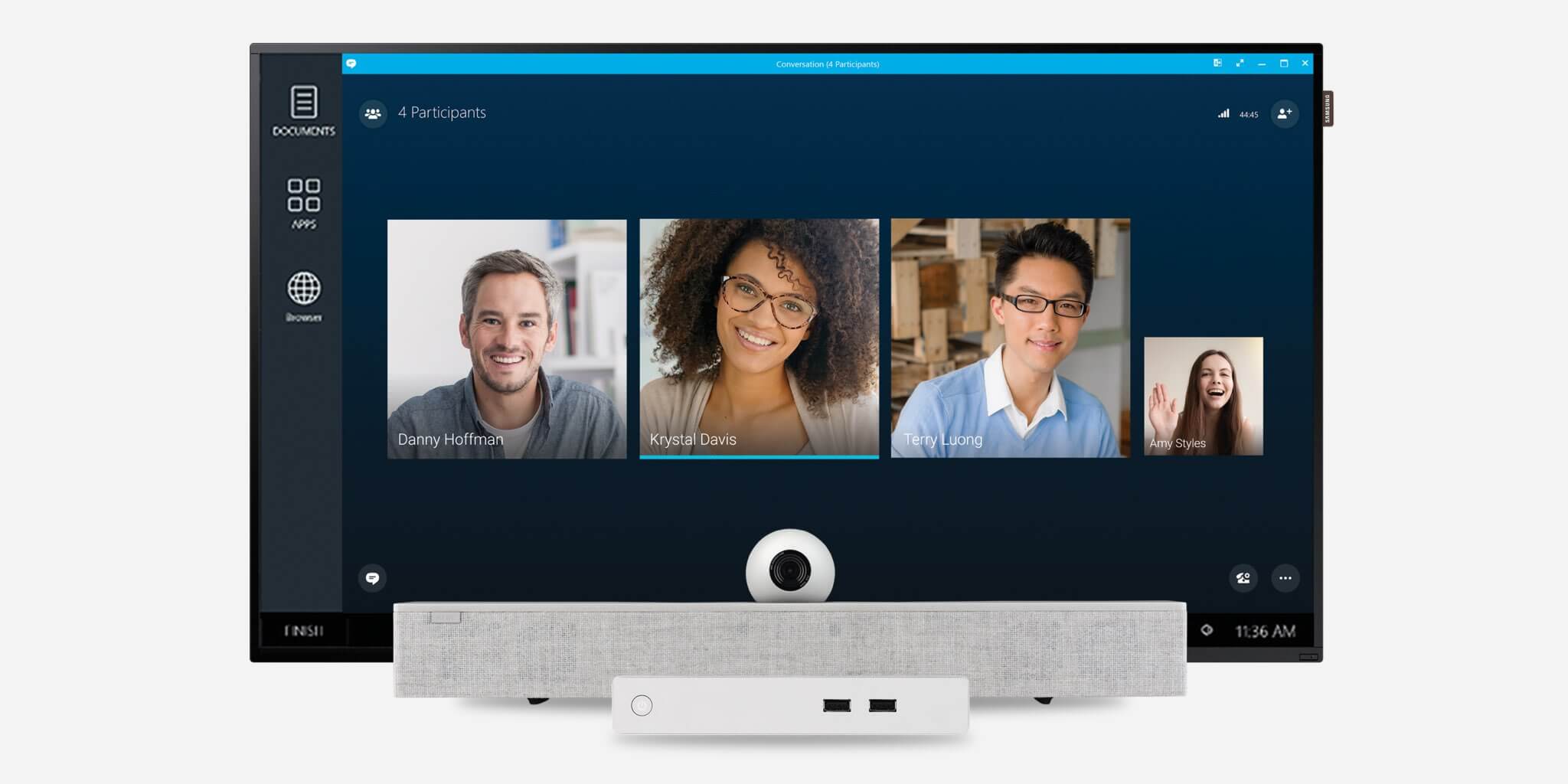 Samsung & HARMAN Huddle Room Solutions
New Cost-Effective Solutions Feature Samsung Displays and Collaboration Technology from HARMAN Professional Solutions.
Samsung Electronics and HARMAN Professional new huddle room solutions targeting small- and medium-sized collaboration spaces. Leveraging industry-leading professional displays from Samsung and collaboration products from HARMAN, these cost-effective solutions target group collaboration in the 50 million huddle spaces that are estimated to be in use worldwide.
The unparalleled combination of Samsung's industry-leading visual displays and HARMAN's pioneering audio and video technology produces the most complete, high-performing solutions available for the modern huddle space. These fully integrated meeting systems provide everything necessary to conduct a seamless and efficient meeting, reducing setup time and ensuring that meetings start and end on time, including video conferencing support, document sharing and more.
The huddle room solutions are available in four different options, providing a range of functionality for any huddle room application:
Huddle Standard Solution – Designed for small huddle rooms and communal workspaces, this solution combines a Samsung DC Series high definition display and HARMAN's AMX Sereno video conferencing camera with microphone. It accommodates fundamental collaboration needs at a modest price point.
Huddle Premium Solution – A versatile solution for huddle spaces targeting BYOD, the Huddle Premium Solution includes a Samsung QMH Series UHD display and an AMX Acendo Vibe conferencing soundbar with camera from HARMAN. The Acendo Vibe provides a wide-angle camera to capture all of the room participants and JBL-designed audio with a far-field microphone array to ensure meeting attendees can communicate effectively using their own devices during a meeting.
Huddle Enterprise Solution – A premium option for customer-facing collaboration, the Huddle Enterprise Solution includes the same display and conferencing soundbar from the Huddle Premium Solution and adds the AMX Acendo Core business communication platform from HARMAN. The Acendo Core platform facilitates a fast and flawless meeting start, providing document viewing, wireless screen sharing and one-touch Skype for Business interaction. The solution allows users to participate in local and remote meetings without bringing anything into the room.
Huddle Enterprise Plus Solution – An all-inclusive, interactive collaboration system, the Huddle Enterprise Plus upgrades the display in the Huddle Enterprise solution to a Samsung PMF-BC Series touch-based display. This interactive solution elevates the traditional meeting experience with a 55" touchscreen, eliminating the need for a keyboard and mouse and allowing room users to interact directly with their content on the screen.
Samsung Harman Bundle Solutions Brochure
AMX Acendo Core
Acendo Core provides tremendous value for huddle spaces and other small meeting rooms. Featuring direct 
integration with Microsoft
®
 Exchange, Acendo Core provides a comprehensive scheduling system to ensure 
that meetings begin and end on time. Users can easily start a meeting with the click of a button or a touch on 
the screen. If the meeting is scheduled as a Skype for Business meeting, participants can press a single button 
to join without having to search for a link in a meeting invitation. Built-in document viewers and rendering allow 
users to present content without bringing anything to the room. Users can simply start a session, navigate to 
their document on a USB drive, network drive, or the Web and begin their presentation. For enterprises who 
store documents on network drives, Acendo Core integrates natively with Microsoft Active Directory so users 
can authenticate into a meeting and instantly access stored content.
Read More About AMX Acendo Core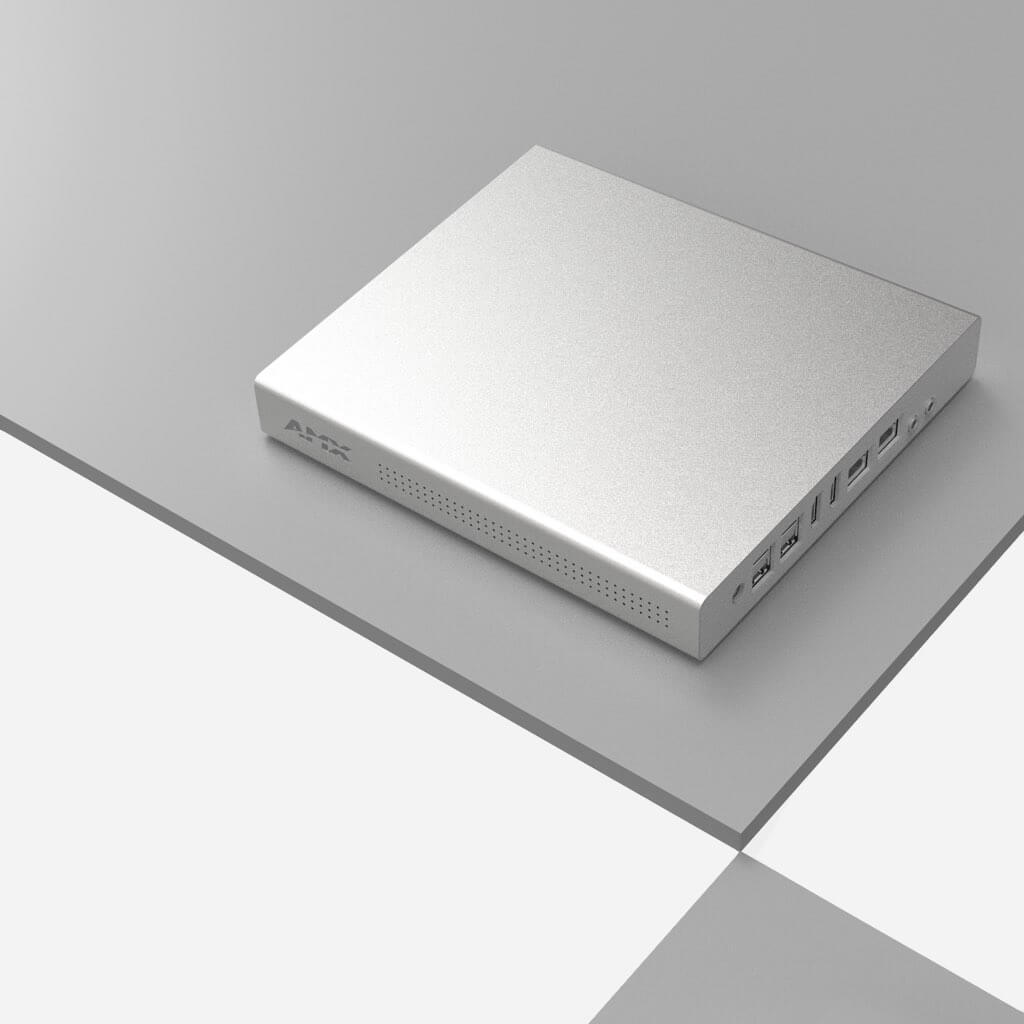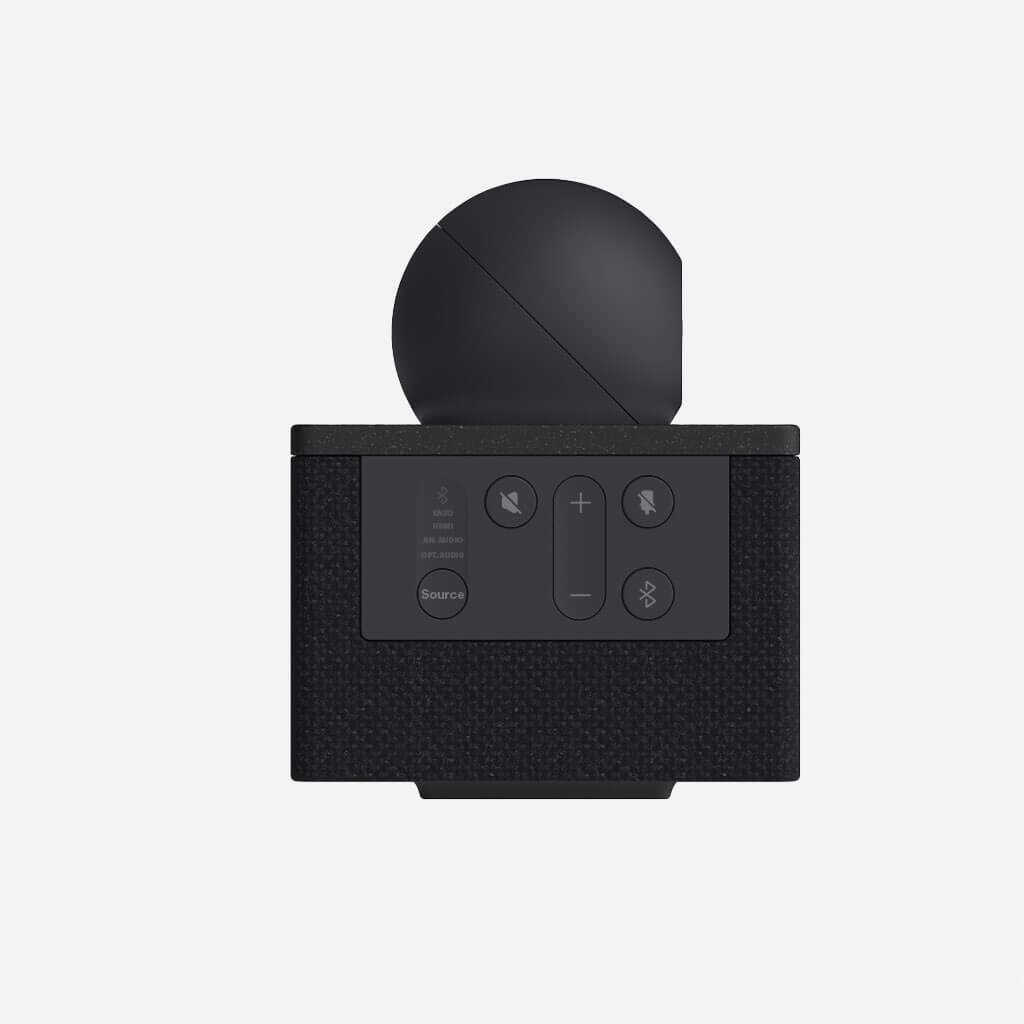 AMX Acendo Vibe
Acendo Vibe premium conferencing sound bars harness HARMAN's deep history and expertise i
n audio 
technology to deliver outstanding performance that greatly exceeds traditional conferencing solutions, all in an 
intuitive and easy-to-install package. Featuring an industrial design that aligns with the latest interior design 
trends of the modern office and a comprehensive feature set, Acendo Vibe is the ideal audio/video solution for 
small meeting spaces. Unlike other solutions that are comprised of several individual components that need to 
be separately installed and integrated, Acendo Vibe is an all-in-one solution that requires no programming or 
installation of additional equipment. Acendo Vibe comes in two colors and features softened materials and 
finishes to augment the interior design of the modern office environment.
Read More About AMX Acendo Vibe 2100
Read More About AMX Acendo Vibe 5100 w/ Cam
Speak to a private advisor
AMX Acendo Book
Acendo Book scheduling touch panels are standalone scheduling panels that integrate directly with popular room scheduling software like Microsoft Exchange, Office 365, and Google Calendar without additional system software or hardware requirements. The user interface background color and built-in room availability bars change between red and green to show room availability, enabling users to easily locate and book an available room directly from the panel. If that room is currently booked, the "Browse Rooms" feature allows users to quickly locate the nearest available room or the next available time from either Acendo Book or Acendo Core. Leveraging the style and cost-efficiency of HARMAN's award-winning Modero S Series Touch Panel, Acendo Book touch panels enable a simple swipe to glide through the room's calendar to check availability, a brilliantfull-color high-resolution display, wide viewing angle of screen and availability bar LEDs and a low-profile design. The panels can be mounted on any flat surface, including drywall, gang-box, glass, or stone, inside or outside a conference room or huddle space.
Read More About AMX Acendo Book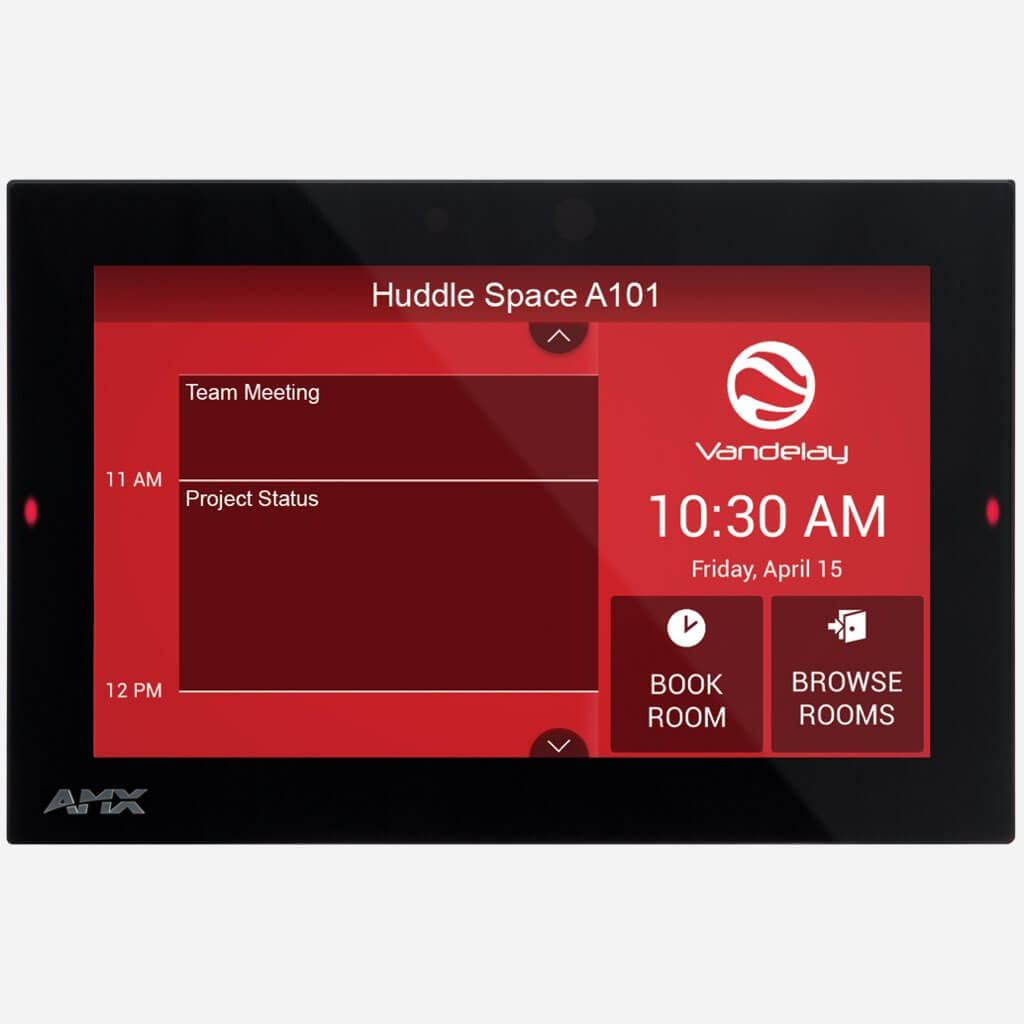 A lower TCO for the ultimate enterprise performance
The first truly high-end and super custom integrator in South Florida. dmg-mg is a certified direct dealer and integrator of AMX by HARMAN for commercial marine and residential applications in the Miami / Fort Lauderdale area.
Ensuring peace of mind, for the best price, professional installation, and warranty protection of your AMX Acendo Huddle Space Solutions System.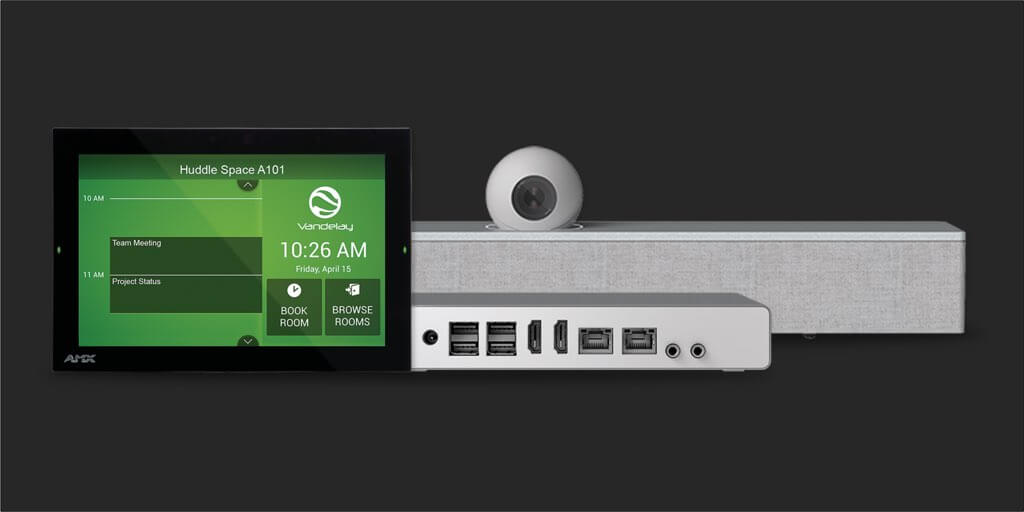 ---
AMX Retractable Touch Panel
AMX MXR-1001 Modero X G5 Retractable Touch Panel.
---
AMX N7142 Presentation Switcher
For cost-sensitive 4K video distribution applications.